Introduction
In today's fast-paced digital landscape, the customer experience is pivotal in shaping brand reputation. It encapsulates everything from the quality of customer care to the security and consistency of customer touchpoints. As such, companies are increasingly investing in comprehensive, flexible solutions to modernize their customer service. In light of this, we're excited to help transform organizations using the Microsoft Digital Contact Center Platform, an innovative, collaborative contact center solution designed to streamline and enhance customer journeys.
Understanding the Microsoft Digital Contact Center Platform
The Digital Contact Center platform from Microsoft integrates modern digital tools to provide a comprehensive and flexible solution for customer engagement. The platform is powered by various cutting-edge Microsoft technologies including Microsoft Dynamics 365, Microsoft Teams, Microsoft Power Platform, and the latest addition to the Microsoft family, Nuance.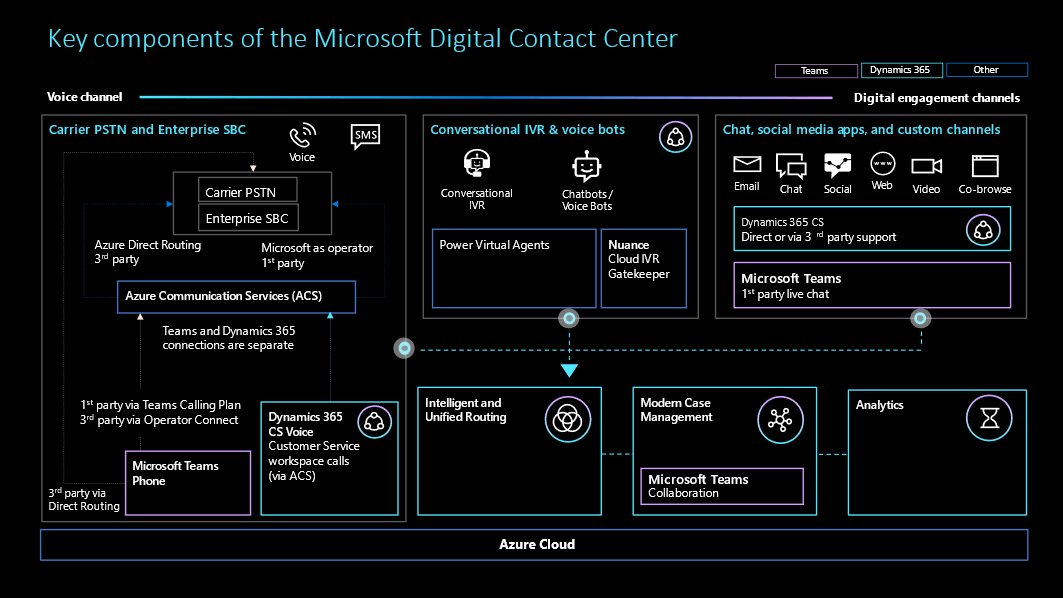 Key components of the Microsoft Digital Contact Center
Integrating AI, Teams, and Dynamics 365
The platform harnesses the power of AI, Teams, and Dynamics 365 to equip contact centers with advanced digital tools. These tools facilitate robust customer engagement across various channels, such as voice and video. The integrated AI aids in providing self-service experiences, live customer engagements, business process automation, advanced telephony, and fraud prevention capabilities.
Collaborative Agent Experiences and Fraud Prevention
The addition of Nuance to the platform introduces a new dimension of conversational AI, security, and automation to the contact center. This not only allows for faster and more personalized customer service, it also incorporates advanced fraud prevention measures. The result is a reduction in resolution times, improved customer satisfaction, and an increase in brand loyalty and revenue through targeted incentives and upsell opportunities.
Overcoming Technological Complexity and Cost
The inherent complexity and cost associated with upgrading technology often hamper the necessary innovation needed to transform customer service from a cost center into a revenue driver. However, the open nature of the Microsoft platform allows companies to build upon their existing infrastructure and seamlessly incorporate any combination of capabilities they require. This results in a contact center that is not only technologically advanced but also cost-effective and versatile.
Partnering with Industry Leaders
Microsoft is committed to ensuring seamless interoperability and compatibility with various contact center systems and components. As such, the company is partnering with industry leaders in contact center infrastructure, such as Capgemini. These partnerships ensure that companies can effectively implement and use the contact center systems and components they currently use or plan to in the future.
Features of the Microsoft Digital Contact Center Platform
The Microsoft Digital Contact Center Platform offers a range of features designed to optimize customer engagement and streamline the customer journey. These features include:
Omnichannel Engagement and Intelligent Self-Service
The platform enables omnichannel engagement, allowing companies to meet customers through the channels they use daily, such as voice and digital messaging. Moreover, it provides intelligent self-service and automation capabilities to resolve customer needs quickly and efficiently.
Furthermore, the platform can intelligently connect customers to virtual and live agents based on their skills, experience, capacity, and availability. This integration ensures that agents are provided with AI-powered recommendations to give hyper-personalized service across voice and digital engagement channels.
Personalized and Secure Customer Interactions
In today's digital era, customers expect companies to provide personalized experiences based on their interactions. The Microsoft Digital Contact Center Platform uses AI and deep analytics to anticipate customer requests, predict intent, and provide rapid resolution. Moreover, it secures every customer and employee interaction and prevents fraud while uncovering fraud patterns and attack vectors.
Enhanced Agent Productivity & Modern Case Management
The platform improves agent productivity by providing agents with a 360-degree view of the customer and their journey. It empowers agents with personalized conversational intelligence, including sentiment analysis, to understand customer emotions and needs. Furthermore, it assists agents in identifying resolutions with AI-recommended knowledge articles and automates the process of bringing together experts to resolve an open case through intelligent case swarming.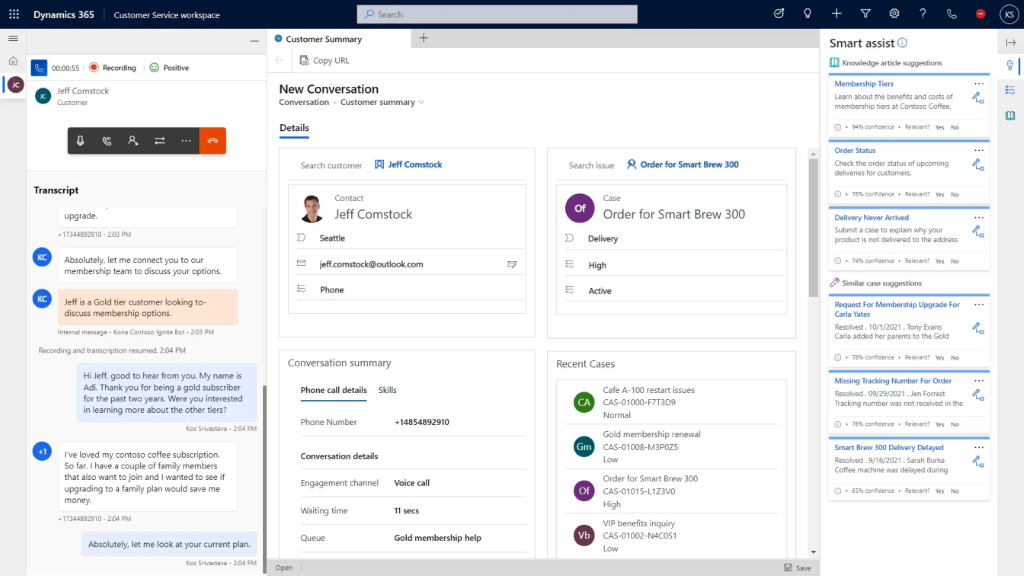 Agents can view a real-time call transcript, see the customer's details, recent cases, and suggested knowledge articles and similar cases to help resolve customer issues more quickly.
Increased Customer Acquisition and Revenue
The platform enables data-driven decisions to improve customer satisfaction using conversational analytics. It allows agents to increase conversions and drive upsell through real-time offers and helps customers find and select products through personalized offer recommendations. Moreover, it tracks user behavior and data to quickly identify and offer optimal engagement opportunities through predictive targeting, thereby improving satisfaction and increasing revenue.
Infrastructure Simplicity, Flexibility, and Innovation
The platform simplifies the implementation and support of contact center infrastructure by removing complex IT integrations while maintaining flexibility for customers and partners. It automates contact center tasks and workflows, ranging from routine conversations to sophisticated transactions, using no-code, low-code, or pro-code experiences. Moreover, it is cloud-scale and elastic to accommodate seasonal or surging demand, automatically adjusting to changes in contact volume, agent counts, wait times, and service levels without impacting performance.
Partnering with Capgemini for Future-Proof Customer Service
Capgemini, a global leader in consulting, technology services, and digital transformation, is helping clients harness the power of the Microsoft Digital Contact Center platform. This solution offers transcription, Teams integration, chat, calling, social media channels, and more... All out-of-the-box.
Leveraging the Microsoft Digital Contact Center platform's capabilities, we can now help clients revolutionize their customer service operations, thereby delivering superior customer experiences. This collaboration signifies a significant step towards the future of customer service, characterized by seamless, personalized, and efficient customer interactions.
The Future of Customer Service with Digital Contact Centers
The role of contact centers in shaping the customer experience is undeniable. The evolution of contact centers from being mere cost centers to becoming significant revenue drivers underscores their importance in the digital age. Solutions like the Microsoft Digital Contact Center platform represent an essential step in this transformation, enabling companies to deliver seamless, personalized, and secure customer experiences across various touchpoints.
The future of customer service lies in digital contact centers that leverage cutting-edge technologies like AI and deep analytics. These modern contact centers not only streamline customer journeys but also enhance agent productivity, improve security, and drive revenue growth. As such, companies must embrace these advanced solutions to stay competitive in today's digital landscape and deliver superior customer experiences.
Conclusion
In conclusion, the Microsoft Digital Contact Center platform represents a significant leap in customer service technology. Its comprehensive, flexible, and secure solution allows companies to transform their contact centers into modern, efficient, and revenue-driving operations. Companies can leverage this platform to future-proof their customer service operations, delivering superior customer experiences that drive brand loyalty and business growth.